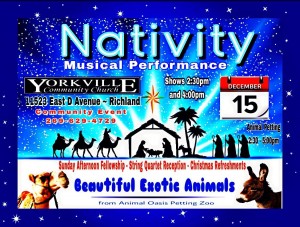 The Living Nativity scene is a reproduction of the holy scene of Christ's birth and constitutes a tradition with very ancient roots, typical of our country heritage. This recreation of the beloved nativity scene is our way of sharing with the community the Christmas message of peace and forgiveness. Born in the humblest of circumstances, Christ brings a message of love to humanity. Everyone is invited to walk through a living, interactive nativity depicting the birth of Christ. Come, take a peaceful stroll back in time and enjoy live character portrayals & costumed participants along with all the barn animals. All this takes place in the beautifully lit memorial garden. join us  inside the fellowship hall to enjoy music and refreshments.
We will be hosting a Live Nativity on Sunday, December 15 in our Memorial Garden.
The shows will be at 3 & 4 pm with refreshments, and entertainment in the Fellowship Hall after.
Please tell you friends and family to help with get the word out. We are expecting over 50 animals.
May you have a very Blessed Christmas season as we all celebrate the birth of Jesus.